​​Our Clinical Staff
Daniel Jarvis
My name is Daniel Jarvis and I am a registered Psychologist and Behaviour Support Consultant. I am a passionate believer in ongoing learning and development to continuously improve the supports that are able to be offered to the people that I work with. I presently provide services principally using Acceptance and Commitment Therapy, Cognitive Behaviour Therapy and Eye Movement Desensitisation and Reprocessing although other means are used in order to suit the individuals needs.
Currently I am providing:
Individual therapy

Group Therapy

Diagnostic Assessment

Forensic Assessment

Offender Interventions
Daniel Jarvis,
Psychologist &
Senior Behaviour Support Specialist
Peter Halvorson

My name is Peter Halvorson and I have been employed as a Behaviour Support Practitioner with Distinct Directions since June 2019. As an NDIS registered behaviour practitioner I provide services to people in the context of National Disability Insurance Scheme (NDIS) funded supports. This generally entails behavioural assessment and development of behaviour management plans with strategies to support people to work towards their goals.
I enjoy the opportunity of working with a diverse group of people and a wide range of services and situations. I am accustomed to working collaboratively within a support system of professional disciplines to form holistic and practical solutions aimed at enhancing the quality of life for the people being supported.
As a senior clinician I am also involved in supporting other behaviour practitioners through mentoring and supervision arrangements. I also provide guidance and support capacity building within the sector as a DCJ NSW Restrictive Practice Independent Specialist panel member
Working at Distinct Directions provides me with access to a wealth of tools and access to a team of experienced clinicians with diverse specialist knowledge. Being part of such a strong team promotes the achievement of better outcomes for the people I am supporting.
I am based in our Bathurst office.
Peter Halvorson, Behaviour Support Specialist

My name is Lynda and I am a specialist behaviour practitioner with professional experience in health, welfare and correctional services. My passion is assisting individuals and families to transition to a safe and supportive home which encourages each person to achieve their goals and define their best quality of life.
I particularly enjoy providing support and options to people who have significant 'cross systems' barriers and concerns that find it challenging to 'fit' into any one service stream.

Lynda Jarvis, Behaviour Support Specialist & Intake

Meaghan Trudgett
My name is Meaghan and I joined the Distinct Directions team early in 2021, I usually work 3 days a week, based in Orange. I am a registered Psychologist with 7 years of experience in working with children, adolescents and adults in both the government and non-government sector. I am currently undertaking a Masters in Clinical Psychology at Charles Sturt University. I currently provide assessment and intervention for a diverse range of clinical presentations however, I do have a special interest in complex trauma, substance use disorders, forensic mental health and mood disorders. I am able to work with Victims Services, Medicare and Work Cover Clients in addition to NDIS.

I am based in our Orange office.

Meaghan Trugett, Senior Psychologist
I am a provisionally registered Psychologist and registered Behaviour Support Clinician. This role relies on my ability to come to know and understand the stories and experiences of our clients and their families. To continue to facilitate positive outcomes for our clients, I build relationships with the network of service providers involved in the care of our clients.
I bring a variety of life experiences and professional skills to my role with Distinct Directions. From growing up on a farm and later working as a stationhand in Queensland and Canada; as administration support in a rural solicitors' practice to financial services and recruitment in the corporate world of Sydney, to working in diverse fields such as construction, mental health and hospitality in London. After graduating in 2008 with a Bachelor of Teaching (Secondary)/Bachelor of Social Sciences (Psychology), I taught English at a day and boarding school for boys in regional NSW. I am currently completing my Masters of Professional Psychology.
I am based in our Bathurst office.

Emily Puddicombe, Provisional Psychologist & Behaviour Support Clinician

My name is Felicity and I am a registered Provisional Psychologist and Behaviour Support Practitioner with an honours degree in psychology. I joined the Distinct Directions team in 2020 and enjoy working with clients from all demographics, with a particular interest in supporting children and families. I am particularly passionate about understanding and empowering individuals through positive behaviour support. In the future, I hope to pursue a career in psychology to further develop my skills and knowledge in this area. I will be beginning my provisional psychology internship early in 2022 to work towards full registration as a Psychologist with AHPRA.

I am based in our Orange office.

Felicity Crome, Behaviour Support Specialist

My name is Madeline Williams and I'm a Behaviour Support Practitioner and Provisional Psychologist currently undertaking the 4+2 internship. My internship requires over 3080 hours of supervised practice in addition to rigorous demonstrations of abilities to conduct formal psychological testing, various therapy engagement techniques and counselling skills.
I have been voluntarily involved with children and adolescents since 2018. The roles that I have undertaken during this time are varied and have involved, providing educational and vocational support, mental health education and developing social skills.
I have been working with Distinct Directions for 1 year and have worked with clients across the lifespan in hospitals, schools, disability services and in the community. These roles have given me experience in working with teams and individuals, and the ability to manage demanding and stressful situations in a calm and professional manner.
I currently hold a Bachelor of Psychology from Charles Sturt University.
I am based in our Orange office.

Madeline Williams, Behaviour Support Specialist & Provisional Psychologist

My name is Katie and I am a provisionally registered Psychologist and a registered Behavioural Support Practitioner. I hold a Bachelor of Psychology from Charles Sturt University which I completed here in Bathurst, from 2016-2019. I joined Distinct Directions in 2020 to commence my training and supervision in line with AHPRA guidelines to become a generally registered Psychologist. I am also continuing to further my study, I am currently completing a Master of Neuroscience through the University of New England.
I am based in our Bathurst office.

Katie Dowler, Behaviour Support Specialist & Provisional Psychologist

Hi, My name is James Baker and I am a Behaviour Support Specialist. I joined Distinct Directions in 2020 and I am thrilled to begin in this new role where I can share my knowledge, educate others and improve the quality of participants lives.
I am based in our Bathurst office but I regularly travel to Dubbo, Forbes and Parkes.


James Baker, Behaviour Support Specialist

Fiona Kerin
My name is Fiona Kerin, I am a Behaviour Support Clinician and Provisional Psychologist. I grew up in a small town in the Central West of New South Wales before moving to the Sydney to work, grow emotionally and spiritually, and to experience a different way to live. After enjoying the city life for 25 years, I felt the country calling. I moved back to the Central West to be closer to my family and finish my studies. That was nearly 10 years ago now and I do not regret it. I have revitalised my passion for horses, growing things and I know it is a cliché, but the fresh air is glorious. I also have managed to finish a Degree in Psychology as a very mature aged student which as brought me here today and I look forward to meeting you at Distinct Directions.

I am based in our Orange office however am looking forward to travel to provide services in Cowra and surrounds shortly.
Fiona Kerrin, Behaviour Support Specialist & Provisional Psychologist

Administration Staff
The administration team are your key to organising and coordinating services with clinicians. We are here to help you with all of your enquiries and we are dedicated to constant service improvement. If you have any feedback for us, please see the feedback section of our website or, if you're in office, please complete our smiley feedback survey.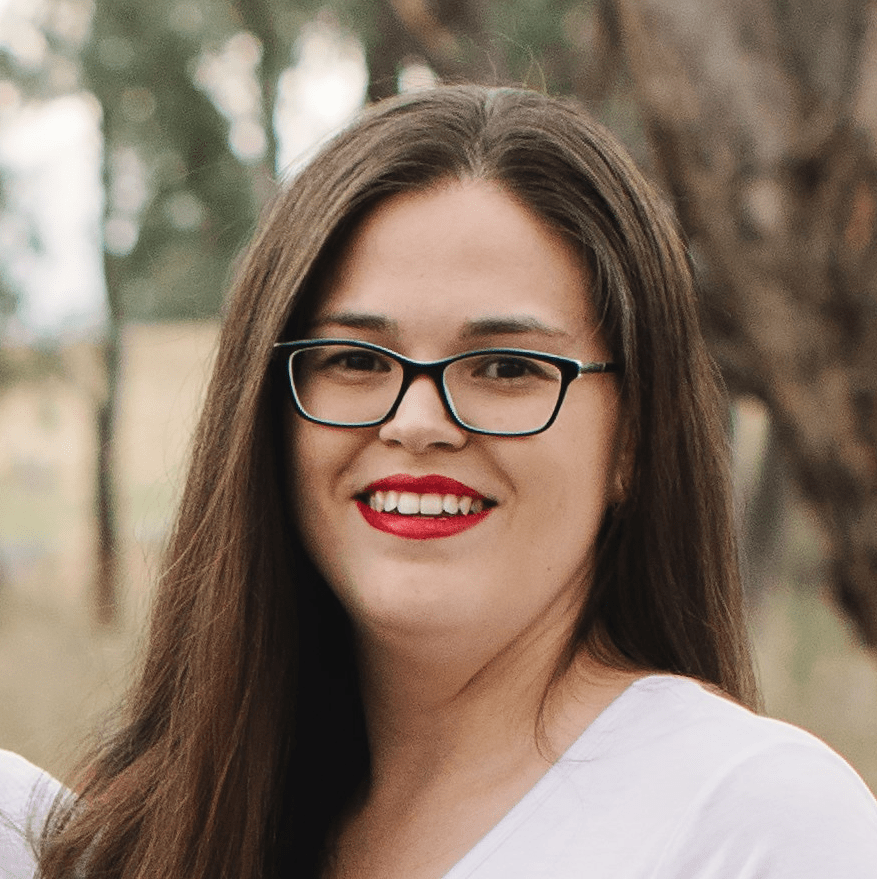 Kate
Hi,
My name is Kate and I am the Operations Manager at Distinct Directions. My job is to make your experience with us a great one! I do a lot of organisational tasks at both of our office locations to support our amazing Clinical and Administrative Teams to provide you with world class allied health services. I have a background in the Public Service and the disability sector, and I am currently working towards my Master of Business Administration. Prior to this I have worked in hospitality and in a veterinary clinic as a receptionist and trainee veterinary nurse. I love dogs, there is not a dog on this planet that I do not wish to pat.
When I am not at work, I enjoy growing veggies and other plants (though honestly, I'm not great at it) and spending time with friends and family. One thing I want to do more of is going camping and exploring the natural wonders the Central West and greater NSW has to offer.

Danni
Hi!
My Name is Danielle, although everyone calls me Danni. I am the Senior Admin at Distinct Directions. I mostly manage all of our intake and billings however I am involved in all of the administrative processes here.
I have lived in Bathurst for the last 12 years along with my family. Prior to moving to Bathurst, I lived in Western Australia and the Northern Territory. Prior to Distinct Directions I worked in retail, wholesale, and merchandising, but Admin was where I wanted to be.
I have completed my Cert III in Business administration and I am currently studying my Dbl Dip in Business Administration and Practice Management. I have worked with Distinct Directions since 2016, I currently work part time Tuesday to Friday along with the busy mum duties and studying. If you have any concerns please don't hesitate to get in touch as the buck stops with me.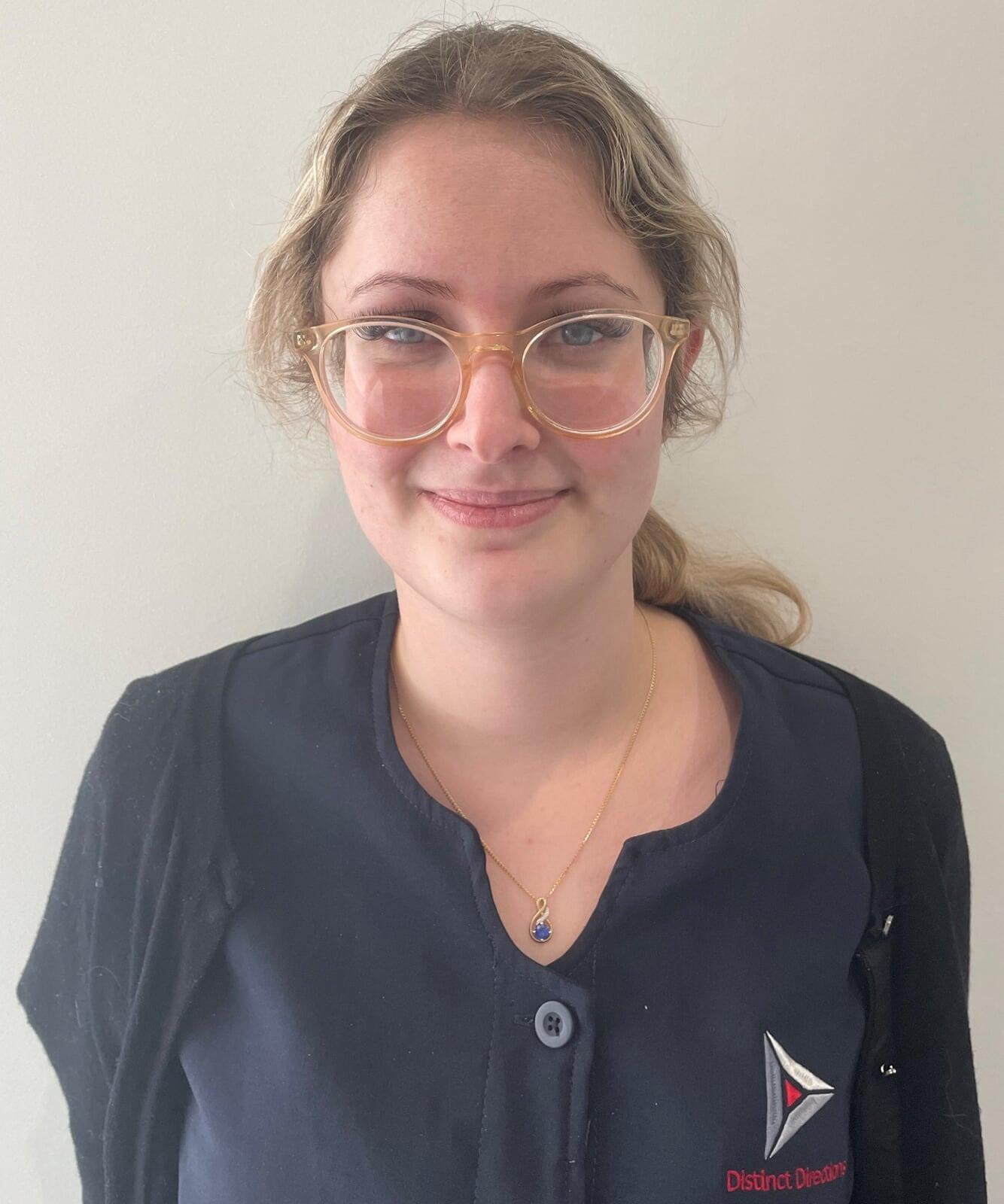 Sarah G.
Hello!
I am Sarah and I am the full time administrator and accounts clerk at the Bathurst branch, with the occasional shift at Orange. I am currently studying a Bachelor of Criminology and Criminal Justice at Griffith University and am in my second year. I have a big passion for retro-gaming and forensics.
Originally from Sydney, I have lived in Bathurst for two years now, so you may recognise my face as I am always out and about in the community.
I am always happy to help with any enquiries you may have so please do not hesitate to contact me.